I. What is COGI Token?
- COGI - Crypto Online Gaming Infrastructure.
- COGI is an Online MMO Game platform that uses Blockchain network to give users the value of their real life through the game by "digitizing assets".
- COGI will develop many other games to form an MMORPG game ecosystem in "COGIVERSE".
- The first product of the COGI ecosystem is the MMO game - 9DNFT.
Goal: Build a Cryptocurrency platform for Players in Southeast Asia.
II. How to get COGI?
1. Buy COGI
- It is currently possible to buy COGI through cryptocurrency exchanges such as:
+ BSCStaion: https://bscstation.finance/
+ Poocoin: https://poocoin.app/
+ Pancakeswap: https://pancakeswap.finance/
- It is also possible to own COGI through Staking COGI activity, details at the project homepage: https://9dnft.com/
- In addition, Dragon Masters can also receive COGI at Benefits and Activities ingame.
2. Level up reward
- In level 150, you will get 0.1 COGI x50.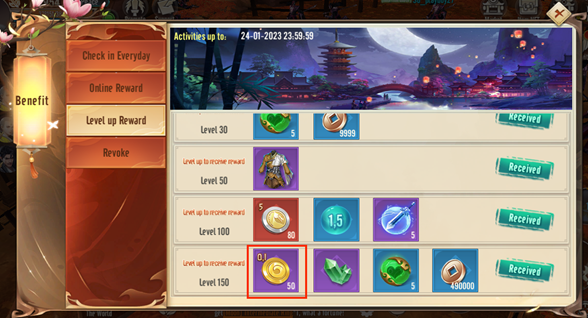 3. Demon Killing
- When receiving the gift of the first damage and the last damage of Boss Demon Killing, the player will receive COGI.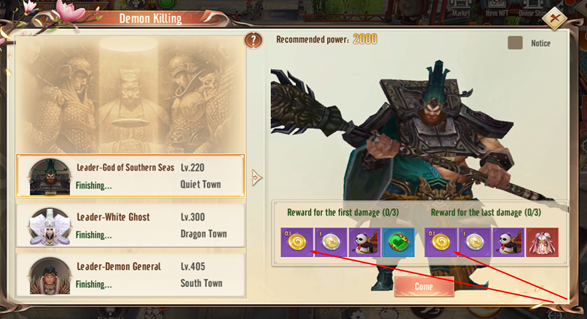 4. Killing White Gibbon
+ Killing boss reward: 3 COGI.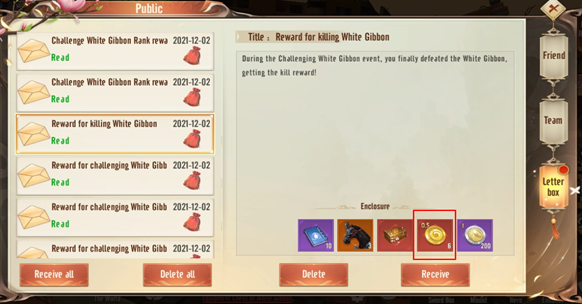 + Top 1 damage in your Class: 2 COGI.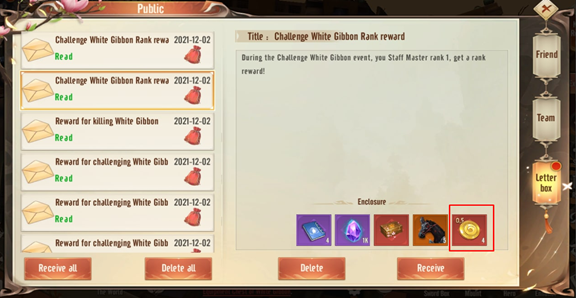 5. Arena
· Top 1: Medal x2000, 0.1 COGI x144
· Top 2: Medal x1500, 0.1 COGI x89
· Top 3: Medal x1200, 0.1 COGI x55
· Top 4-10: Medal x1000, 0.1 COGI x34
· Top 11-20: Medal x1000, 0.1 COGI x21
· Top 21-50: Medal x1000, 0.1 COGI x13
· Top 51-100: Medal x500, 0.1 COGI x8
· Top 101-200: Medal x300, 0.1 COGI x5
· Top 201-350: Medal x200, 0.1 COGI x3
· Top 251-650: Medal x100, 0.1 COGI x2
· Top 651-1000: Medal x100, 0.1 COGI x1
6. Auto training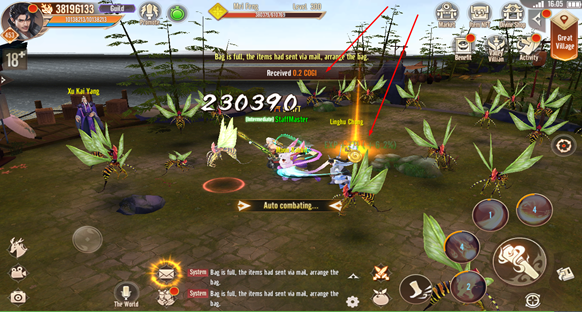 7. Buy item at Marketplace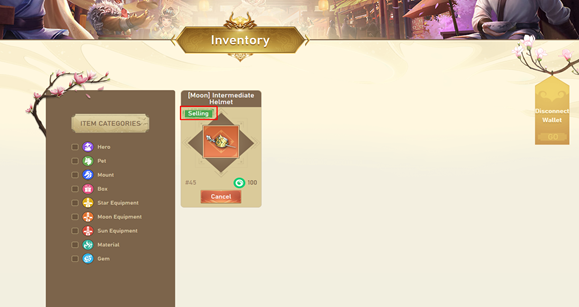 III. What is COGI used for?
1. COGI is used to create Characters
Blade Master: 100 COGI
Zither Master: 100 COGI
Bow Master: 150 COGI
Sword Master: 200 COGI
Staff Master: 300 COGI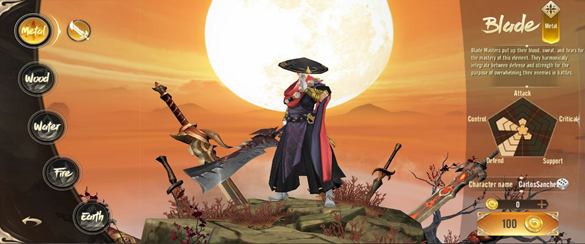 2. COGI used to buy NFT items on Marketplace
- Click "Market" button to go to Marketplace.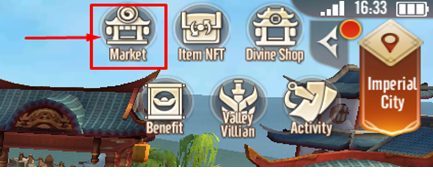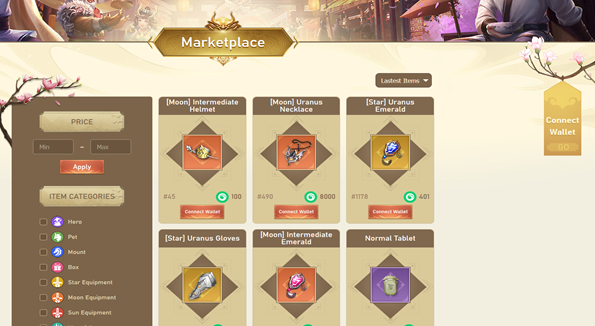 - Select the item that suits your needs, then choose Buy to buy the Item.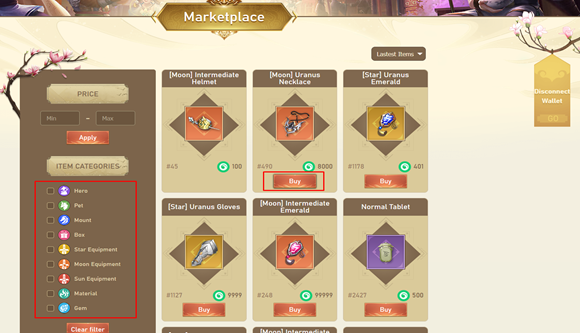 IV. How to enable COGI received in 9DNFT
- Click the item COGI -> Use.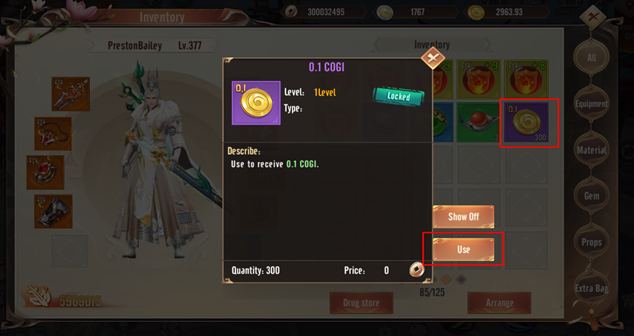 - The amount of COGI you currently own will be displayed here.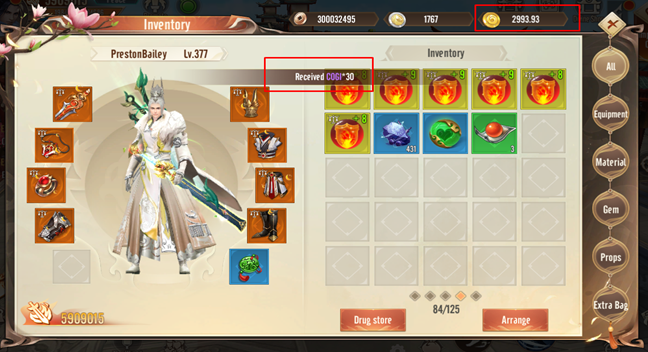 *** Depending on the purpose of using COGI, players can load into 9D wallet or withdraw to Metamask Wallet
If COGI is required to create a character, the player needs to have a sufficient amount of COGI available to create the character in the 9D wallet.
If you need COGI to trade, buy NFT items on Marketplace, you need to have COGI available in Metamask wallet.