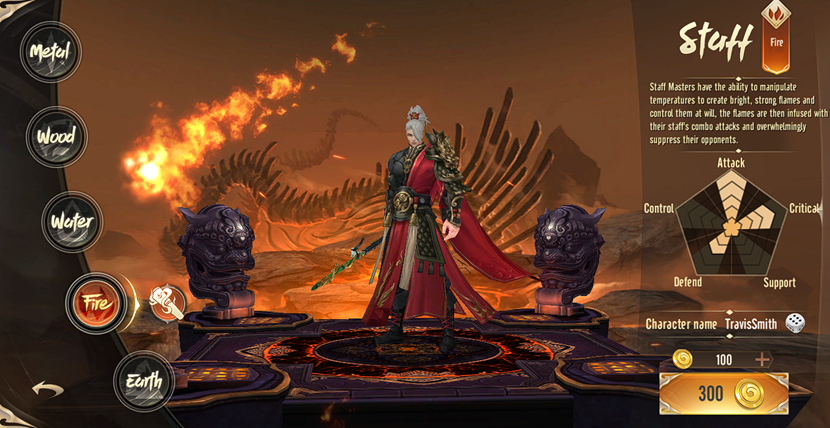 I. Introduction
- Element: Fire
- Weapon: Staff.
- Characteristic: Overcoming the Metal element.
- Advantages: Good at attack. With a full set of skills along with the excellent martial arts learned Power Of Eighteen Dragon, Staff Master ranks first in the world of Martial Arts.
- Disadvantages: Recovery is very low, melee damage, so it is necessary to approach the target at close range, skills need to be carefully calculated to be effective.
- Class Summary:
+ Attack: 10 Points
+ Critical: 8 Points
+ Support: 2 Points
+ Defend: 6 Points
+ Control: 2 Points
- Price: 300 COGI
II. Martial Art:
| | | | |
| --- | --- | --- | --- |
| Level Request | IMAGE | SKILL NAME | DESCRIBE |
| 2 | | Fire Dragon | Flying and swinging the stick, dealing 315% + 145 damage to the target ahead. Having 20% chance to burn enemies in 2 seconds. Maximum impact 4 targets. |
| 11 | | Flaming Staff | Intermediate skills of The Divine Staff, dealing 30% damage + 360 damage scores to randomly 4 targets ahead. |
| 19 | | Power Of Eighteen Dragon | Advanced learning of Beggars Sect, dealing 3 skills consecutively. The first skill deals 245% damage + 230 damage scores, the second skill deals 265% damage + 250 damage scores, the third one deals 285% damage + 270 damage scores. The two skills deal damage surrounding yourself, the third skill deals damage ahead. Up to 6 targets, each skill has 20% rate of burning target in 2 seconds . |
| 26 | | Fire Meteorite | Combine strong wine with internal energy to form fireballs that attack the target and surrounding target, cause 405% damage + 390 damage scores each wave. Up to 3 waves, having impact up to 6 targets. |
| 100 | | Dragon Strategy | The Divine Staff 's last skill - Glacial Strategy, deals 5 wide range of area damage total 418% damage + 2100 damage. scores, the last block has chance to reduce 20% Speed of all enemies who was hit. |
| 150 | | Butterfly's Power | Being drunk and then use special footstep, greatly increasing evasion and speed. Increasing 25% evasion and 15% speed in 10 seconds. |
| 180 | | Surprise Attack | Making a run to attack enemy, dealing 450% damage + 630 damage scores, having 20% ability to put enemy in coma in 2 seconds. |
| 210 | | Stealing The Sun | Stealing celestial secret, changing the Sun, stealing the opponent's accuracy to increase your own accuracy. Reducing target's accuracy by 15%, increases your accuracy 15% in 5 seconds. |
III. Arrange Skills: