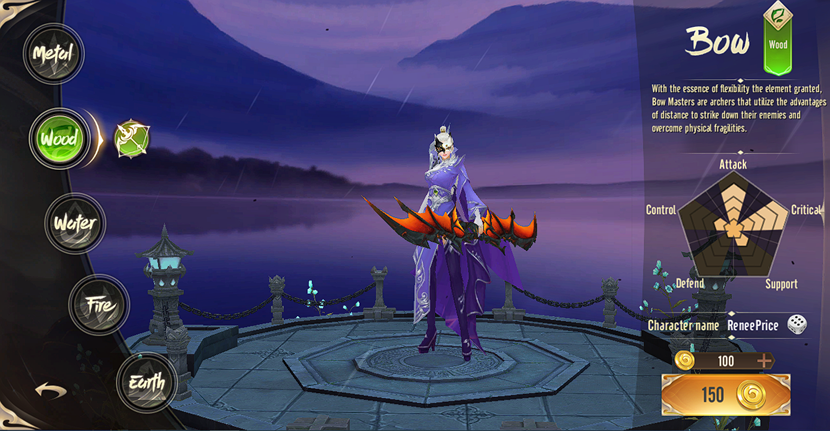 I. Introduction
- Element: Wood
- Weapon: Bow.
- Characteristic: Overcoming the Earth element.
- Advantages: Good at critical. With a complete set of excellent martial arts, the ability to deal long-range damage, cause shock, jump dame continuously. With extremely fast attack speed, complete with accurate and flexible skills. This is a class chosen by many gamers as a champion to PK in every match.
- After each move, Bow master increases dramatically in attack rate and accuracy. Defeat opponents quickly.
- Disadvantages: The ability to defend is very low, need to use combo skills to defeat opponents and keep attack distance.
- Sect Summary:
+ Attack: 8 Points
+ Critical: 10 Points
+ Support: 4 Points
+ Defend: 2 Points
+ Control: 4 Points
- Price: 150 COGI
II. Martial Art:
| | | | |
| --- | --- | --- | --- |
| Level Request | IMAGE | SKILL NAME | DESCRIBE |
| 2 | | Piercing Arrow | Shooting piercing arrow, dealing 320% damage + 150 damage to the target. Having 10% chance to make enemy to be immobile in 2 seconds. |
| 11 | | Eternal Darts | Shooting multiple arrows that pursue enemies and then radiate around them, dealing 300% damage + 360 damage to up to 6 targets. |
| 19 | | Brutal Darts | Assassin's advanced learning, attacking 3 skills. The first skill deals 250% damage + 250 damage scores, the second skills deals 270% damage + 270 damage scores, the third skills deals 300% damage + 300 damage scores. Each skill has the 20% ability to make the opponent be silence in 2 seconds. |
| 26 | | Arrow Rain | Shooting a rain of arrows that causes damage in the wide range area, the arrows fly like falling flowers. Dealing total 500% damage + 500 damage scores. Having the max impact up to 6 targets. |
| 100 | | Summoning Puppets | Controlling Assassin's level 100 Puppets to attack enemies in 15 seconds. The Puppets Attacking can recover the owner's HP. |
| 150 | | Eyes of Assassin | Supporting scroll of Assassin, in 8 seconds increases 5% attack rate and 25% accuracy. |
| 180 | | The Poison Arrow | Poisoning an arrow dealing 300% damage + 420 damage scores and poisons the target in 5 seconds, suffers 30% damage every second + 50 damage scores |
| 210 | | Teleport | Jumping backward to evade damage while strongly increasing 80% evade in 3 seconds. |
III.Arrange Skills: