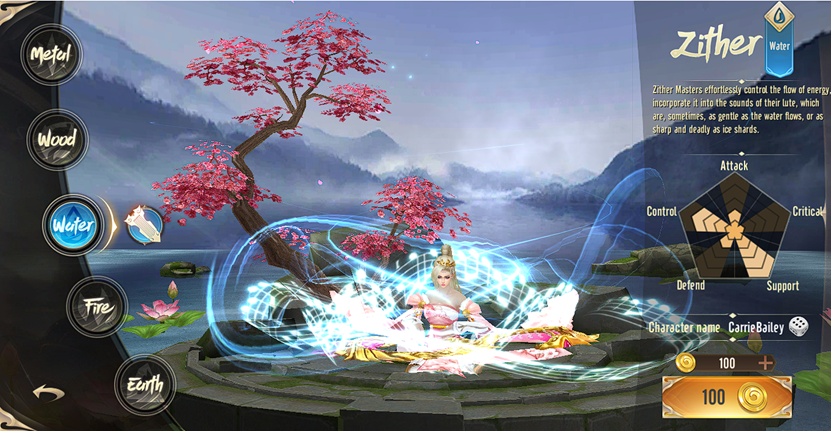 I. Introduction
- Element: Water
- Weapon: Zither.
- Characteristic: Overcoming the Fire element.
- Advantages: Good at support skills. With great martial arts, heal continuously for yourself and your teammates. Zither Master is definitely an indispensable class in team PK matches and battlefields.
- In PvP battles, with skills that heal, slow, freeze, resist control effects.
- Disadvantages: The attack and defense power is very low, so it is necessary to choose an appropriate position, avoiding the enemy's close range.
- Class Summary:
+ Attack: 4 Points
+ Critical: 2 Points
+ Support: 10 Points
+ Defend: 4 Points
+ Control: 8 Points
- Price: 100 COGI
II. Martial Art:
| | | | |
| --- | --- | --- | --- |
| Level Request | IMAGE | Name | DESCRIBE |
| 2 | | Water Line | The beginner Zither song of Divine Heir, dealing 340% damage +160 damage to the target ahead. Having 20% chance to slow enemy in 3 seconds. Having an impact on up to 4 targets. |
| 11 | | Dream Buffterfly | The intermediate zither song of Divine Heir, deal 280% damage + 350 damage to the target, making the target lost the will to fight, reducing 10% damage in 5 seconds. |
| 19 | | Power of Zither | The advanced zither song of Divine Heir, using the zither to attack the enemy in front of you without stopping. The first skill causes 240% damage + 250 damage scores, the second skill causes 265% damage + 270 damage scores, the third skill deal 290% damage + 290 damage scores. Having an impact on up to 6 targets, each skill all has 10% rate to make to target be slow in 2 seconds. |
| 26 | | Buddha's Light | Healing to the teammate which has the lowest HP rate in the team, recover HP by 140% damage + 300 scores. The teammate is near the target will recover HP by 50% of the above healing effect. |
| 100 | | Shadow Of Zither | Performing a broken zither song, deal 5 consecutive damage to the target for a total of 435% damage + 2100 damage scores, having 20% rate to slow the target. |
| 150 | | Breakthrough Energy | Performing a song will increase battle will and heal teammate around you. Recovering HP by 180% damage + 350 scores. Increasing 10% damage for you, maintain in 10 seconds. |
| 180 | | Echoes of Zither | Performing the advanced song of Divine Heir, dealing 460% damage + 680 damage scores, and freezing nearby enemies in 2 seconds. Having an impact on up to 4 targets. |
| 210 | | Indefinite Lotus | The martial art of Divine Heir, performing a song that makes you and your teammates immune to control and reducing 10% damage received in 5 seconds. |
III.Arrange Skills: