- Unlock level: 120
- Matching TIme: 12:30 - 12:33 and 19:30 - 19:33
- Battle time: 12:33 - 12:45 và 19:33 - 19:45
- Numbers of time: 02/day
- Reward: Hero Card, Gem, Medal, Lotus Magic - I
1. How to join
- When it's time to operate, the notice board to join the battlefield will appear in the main interface of the game, click "Join" to join the registration on the battlefield
- In case the player misses the bulletin board, please click on the activity's icon on the right side of the screen to enter the activity interface.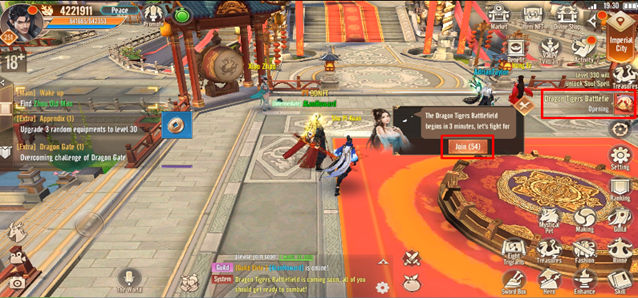 - Go to "Activity", select "Event"
- Select "Dragon Tiger Battelfield" and press "Come"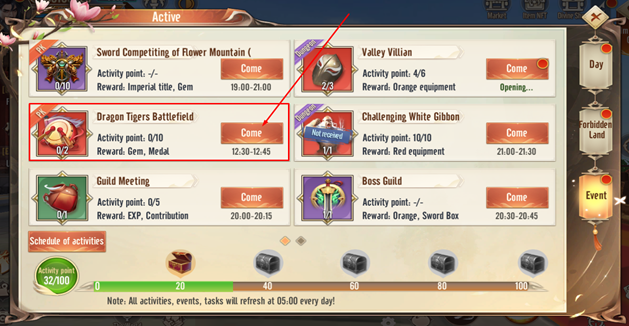 - After opening the active interface, click "Join in" to register.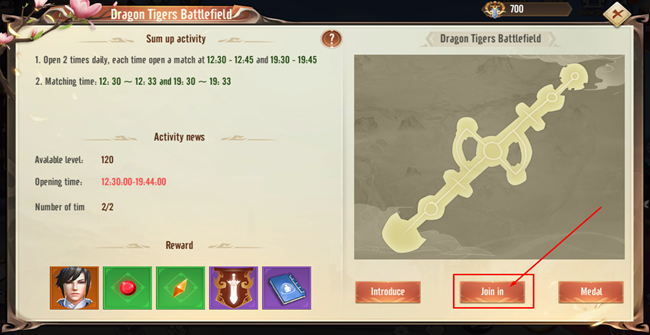 - Trong thời gian báo danh, nếu người chơi báo danh thoát ra, vẫn có thể báo danh vào lại
- Sau thời gian báo danh, người chơi không thể vào trận
2. Rule
- After successful registration, all players will be taken to the waiting room.
- Sau 3 phút báo danh, tất cả người chơi sẽ được chia ra làm 2 phe là Song Soldier và Jin Soldier và chuyển vào map Chiến Trường
- After 3 minutes of registration, all players will be divided into 2 factions, Song Soldier and Jin Soldier and then move to the Battlefield map.
- PK players to add personal points and points for the whole faction.
- If you are defeated, 10 seconds later you will be revived in the safe area of the Faction.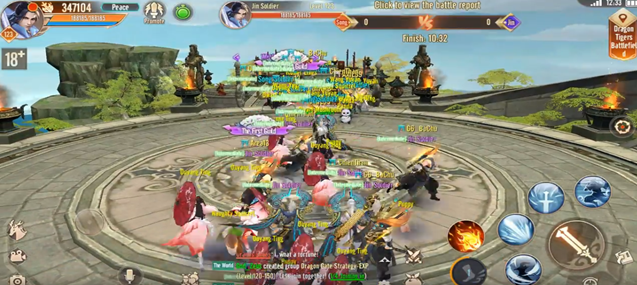 - Except for PK between players, in the separate area of 2 factions there will be 10 Soldiers and 1 Commanders of each faction.
** Note: While in the Battlefield, if the player exits or disconnects from the network, they will not be able to re-enter the battlefield, nor will they receive rewards after the Activity ends.
* How to calculate score
- Kill 1 Soldier = 2 points
- Kill 1 player = 5 points
- Kill the Commander = 50 points
- The side that can destroy the other side's Commander will win straight.
- If the Commanders of both factions are still alive until the end of the battle, the points of both factions will determine the Victory side
3. Reward
- All participating players will receive Joining Dragon Tigers Gift.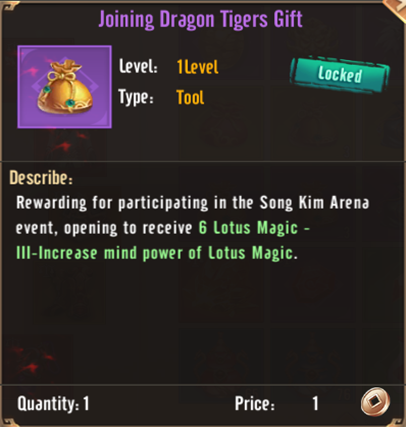 - All players participating on the winning side will receive the Victory Dragon Tigers Gift